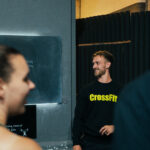 Tom is a qualified PE Teacher and currently a rugby coach. After graduating Cardiff Met uni he played rugby and used fitness and training to continue playing rugby.
He found CrossFit in 2020 after seeing videos of the elite athletes competing and from that day he absolutely loved it. Even though Covid hit not long after, he still managed to continue training and stopped playing rugby because he found more enjoyment pushing himself in the gym. To this day he still loves it more than ever.
Like many of us Tom's other pleasure in life is…COFFEE. If he's not training he's either at a coffee shop with his wife and pooch or at home with a coffee.
Favourite food: Pizza
Favourite lift: Power Clean
Favourite movement: T2B
Favourite music: Welsh Folk