Intern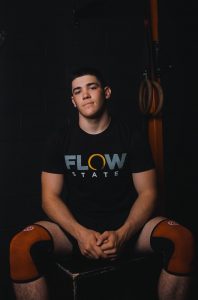 Miles is the youngest member of the team but that does not stop him from being a valued member of our community, he is working towards becoming a coach at our facility.
Outside of the gym Miles has been playing Rugby since he was 5 years old and played in the Gloucester Rugby Developing Player Program (DPP), as well as playing for Tewkesbury RFC juniors. Outside of school, is a keen guitar player both electric and acoustic. Somehow he finds the time to also be chairman of a local youth committee called Pump17. Miles is also a member of a regional British Weightlifting youth squad.
Miles started CrossFit in July 2018 and already has competed in various competitions including qualifying for the CrossFit Games Age Group Qualifiers.
Miles is developing into a fantastic coach. We are really pleased with his progress and it is a joy to be coached by him.
When in one of Miles' classes you can expect a genuine, caring approach to your training. He wants the best for you and won't hold back if there is anything he can do to help you along the way. He oozes compassion and understanding. He allows you to work at your pace and gives you space to explore but is on hand to catch you when you need it.
Favourite Food: Chocolate (we are working on that!)
Music Taste: Anything, but mainly RAP
Favourite lift: Snatch
Favourite Movement:  Bar Muscle Up