Coach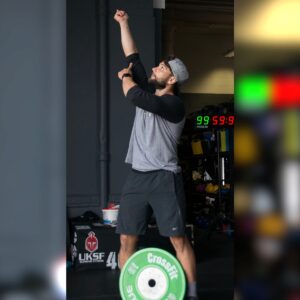 AJ has always had a passion for fitness with bundles of energy. Representing his school in football, hockey, athletics etc but it wasn't until university that he started to specialise in Rugby. AJ played 1st XV Rugby for USW in BUCS Prem A and played Semi Pro for both Merthry and Cinderford.
After going back to playing locally because of work commitments he found training in ordinary gyms monotonous, he had no programme to follow and missed the camaraderie that came with training with his team mates at strength and conditioning sessions. After hearing about CrossFit, the inclusiveness, the competitive element and the community that comes with it he decided to go to a session at his local CrossFit gym in Tewkesbury and never looked back. He got the excitement back and now looks forward to every session.
Since joining FlowState (CrossFit Tewkesbury), AJ's fitness, strength and confidence has come on leaps and bounds. He's a huge character in the gym, leading by example and always encouraging other members.
AJ has now fully immersed himself in the world of CrossFit. Travelling to gyms all over the world, learning and being trained by CrossFit games and regional athletes alike.
AJ wants to be able to give back what CrossFit gave him. He wants to help give people the best hour of their day, but help them become stronger, more functional and all round better human beings. He wants to inspire people that come to his classes. He wants them to feel empowered, stronger both mentally and physically and make sure they leave with a smile on their face looking forward to their next class.
AJ's classes will be totally reflective of his personality! They will be fun, loud and very motivational. AJ is very approachable, always has a smile on his face and willing to help with any questions or queries you have.
Through 2020 and into 2021 AJ has completed the Precision Nutrition Level 1 course and heads up our Nutrition curriculum.