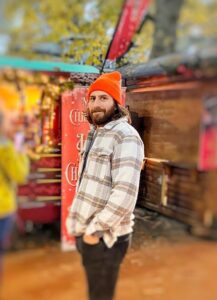 Eze has been involved with sport and fitness most of his life. Once a semi professional football player in Argentina as a midfielder, learning Tae Kwon Do as a teen and in 2015 discovered CrossFit.
As well coaching the methodology, Eze really enjoys the sport side of CrossFit. In 2017 he participated in his first ever local competition in Argentina in the scaled division, finishing 13th out of 40 and igniting his love for the sport.
Inspired by the community and camaraderie he volunteered to shadow the head coach of his local affiliate in Cordoba. After a few weeks he took some warm ups as an assistant to the coach. This early exposure to coaching lit a fire that would lead to one day getting a coaching qualification.
Fast forward to 2019 he moved from his hometown in Cordoba, Argentina to the UK and finally had the opportunity to get involved in coaching more in depth. He got his CF-L1 at CrossFit Cardiff and immediately after started coaching at his local affiliate in Bristol.
By 2021 he moved to the Midlands and joined us at FlowState (CrossFit Tewkesbury) as a member. Eze doesn't know it but at the time we decided as a team that he would be a good fit and could see him on staff in the future.
As an Athlete, Coach and Judge, Eze has experienced every angle of this methodology and sport. He enjoys every single aspect as he believes these roles are completely different but yet fulfilling experiences.
Forever a pursuer of standards, good technique and healthy habits above all else, Eze trusts that effort and dedication will pay off with results for those who remain consistent and are coached appropriately.
Favourite food: Toast with peanut butter, bacon, and banana.
Favourite lift: Front squats
Favourite movement: Pistols and Rope climb.
Favourite music: electronic and house